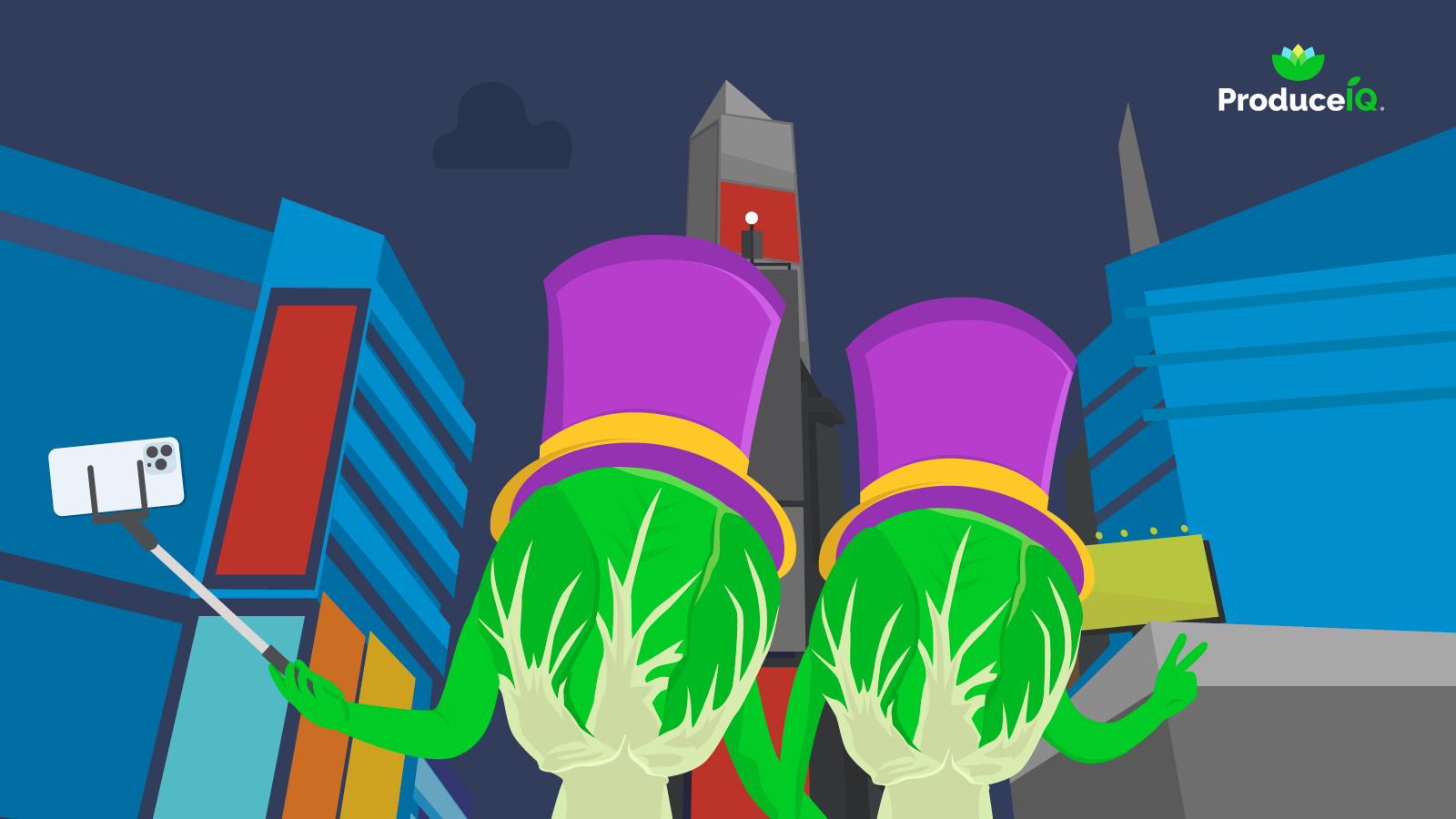 (Week #52, ending December 31st)
ProduceIQ Index: $1.09/pound, +3.8 percent over prior week
Produce markets ended 2021 with a bang. Despite facing headwinds in the form of spiking Covid-19 cases and extremely high freight rates, overall prices followed an increasing trend for the last two weeks of 2021.
The upward swing of prices is not likely to last long. The beginning of January is characterized by the same type of demand slump that follows Thanksgiving.
This week, Western, wet vegetables are stealing the spotlight. Poor weather is prompting significant price hikes across brussels sprout, cauliflower, broccoli, and celery markets. In the Imperial Valley, located near the Mexican border, temperatures are forecasted to dip slightly below freezing at night.
Brussels sprouts prices are at a ten-year high ($42). Wet and cold weather, combined with strong holiday demand, make for a highly competitive market. The poor weather is causing some quality issues, mainly fungi and plant decay. Markets are in a precarious position as more rain and cool weather are in the forecast for next week.
Brussels sprout prices surpass previous record-holder 2015 and have further upside potential.

Cauliflower had the most dramatic change week over week, almost doubling from $11 to $21. The desert temperatures are not cool enough to cause any real damage. However, the cauliflower growth process will be slowed. Strong demand and less-than-ideal growing conditions make for continued high cauliflower prices forecast at least two more weeks.
Cauliflower prices are volatile most of the year, from week 38 all the way to week 28.

Broccoli prices stabilized slightly after a steep descent over the past five weeks. In response to cooler weather across growing regions, prices are expected to rise again. Markets have upside opportunity for two more weeks until desert supply regains its footing.
Rain and cooler weather in the Oxnard growing region are destabilizing celery markets. Up +14 percent over the previous week, USDA prices moved from $16 to $21 for celery cartons. Value-added celery markets are short as well. Expect markets to remain active.
Wet vegetables aren't the only commodities with newsworthy stories this week. Blueberry, lime and onion markets are working hard to take back the headlines.
After seven weeks of record-low prices, blueberry markets are rebounding. Logistic delays, growing region transitions, and decreased holiday production in Mexico make for rapidly elevating prices. However, if shippers can resolve their logistic issues, increasing Chilean production should bring some relief to overextended markets within the next couple of weeks.
Mexican growers are practically the only source of limes to the U.S., so naturally, lime markets are elevated in response to decreased holiday yields and the end of the current production cycle. Lime prices are at a ten-year high but will decrease as more product becomes available.
We would be remiss not to mention the insane dry onion prices persisting through the end of 2021. Large onions, as well as value-added onions, are in a demand-exceeds-supply situation. Shallot yields are also lower than in previous years. Besides low yields, higher production costs are also contributing to abnormal dry onion prices.
Onion growers are giving buyers little hope for price relief in the new year. Unfortunately, due to dramatically higher costs per unit, onion growers need these higher prices to break even.
Yellow onion prices are over 50% higher than any prior year for this week 52.

Please visit our online marketplace here and enjoy free access to our market tools which created the graphs above.
Related produce from this article