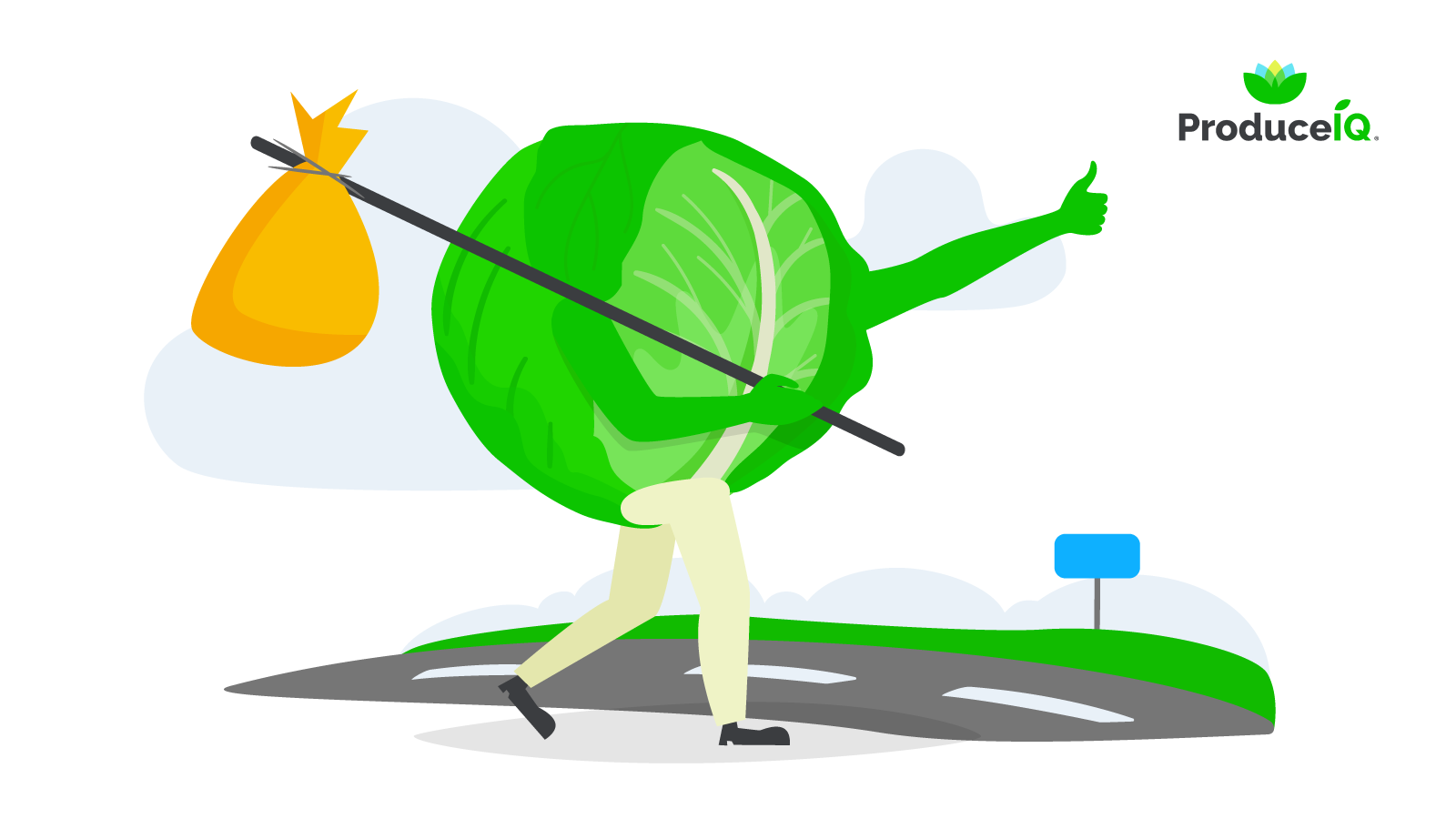 (Week #44, ending November 5th)
ProduceIQ Index: $1.07/pound, -2.7 percent over prior week
Lettuce markets are in abysmal shape after a series of unfortunate events damaged domestic and Mexican supply. Yuma is running a little late, and growers are anxious to make the transition southward. Many Western price lists are now 'call' lists, as saleable inventory is scarce.
Impatiens Necrotic Spot Virus (INSV) wreaked havoc on Salinas lettuce fields in 2020, and this year is no better. When combined with other common soil-borne pathogens, the insect-transmitted virus can leave entire fields unmarketable. According to an article published by Vegetable Growers News, damage from INSV caused at least $50 million in losses throughout 2020 for lettuce growers. In addition, cases of the highly contagious virus are now being spotted in other domestic lettuce growing regions in Arizona and greater California (Imperial Valley).
The photos below compare an INSV-impacted iceberg field to a healthy romaine stand near Yuma last season.
Salinas' lettuce growing season is winding down, and domestic production is picking up in Santa Maria, Huron and Yuma. However, domestic markets will remain tight in response to increasing demand and weak supply for at least three weeks. In Mexico, heavy rain is causing ongoing quality issues. Overall, romaine and iceberg quality are mixed depending on the growing region.

At $50/case, Iceberg lettuce is barely shy of making USDA price record set in 2018
Broccoli and cauliflower supply is starting to improve in a small way thanks to increased production out of Santa Maria and Salinas Valley. Broccoli is down -17 percent over the previous week, and cauliflower fell -34 percent. Still, quality is an enduring issue, with fields becoming unmarketable due to quality issues, such as pin-rot and cat-eye. Expect prices to decline further as domestic supply increases and quality issues decrease.
In the East, strong demand and weak supply are keeping green bell pepper markets tight. Georgia's production of green bells is waning, and Florida has yet to begin in a significant way. Prices are reportedly down -4 percent over the previous week, but at a ten-year high, such a minor decrease is in no way an indicator of increasing supply.
Western bell markets aren't faring much better. In So-Cal, green bell production is in transition, and colored pepper supply is gapping. Coachella production is insufficient to overwhelm demand, and Nogales should begin crossings later this month and through early December.

Bell Pepper supply is low, waiting on Nogales to start with volume.
Rain from Hurricane Rick and Mexican celebrations of Dia de los Muertos has caused a reduced number of avocado crossings. Quality is mostly good with some superficial spotting. Expect prices to strengthen as U.S. consumption primarily relies on Mexican avocados this time of year.
Please visit our online marketplace here and enjoy free access to our market tools which created the graphs above.
Related produce from this article