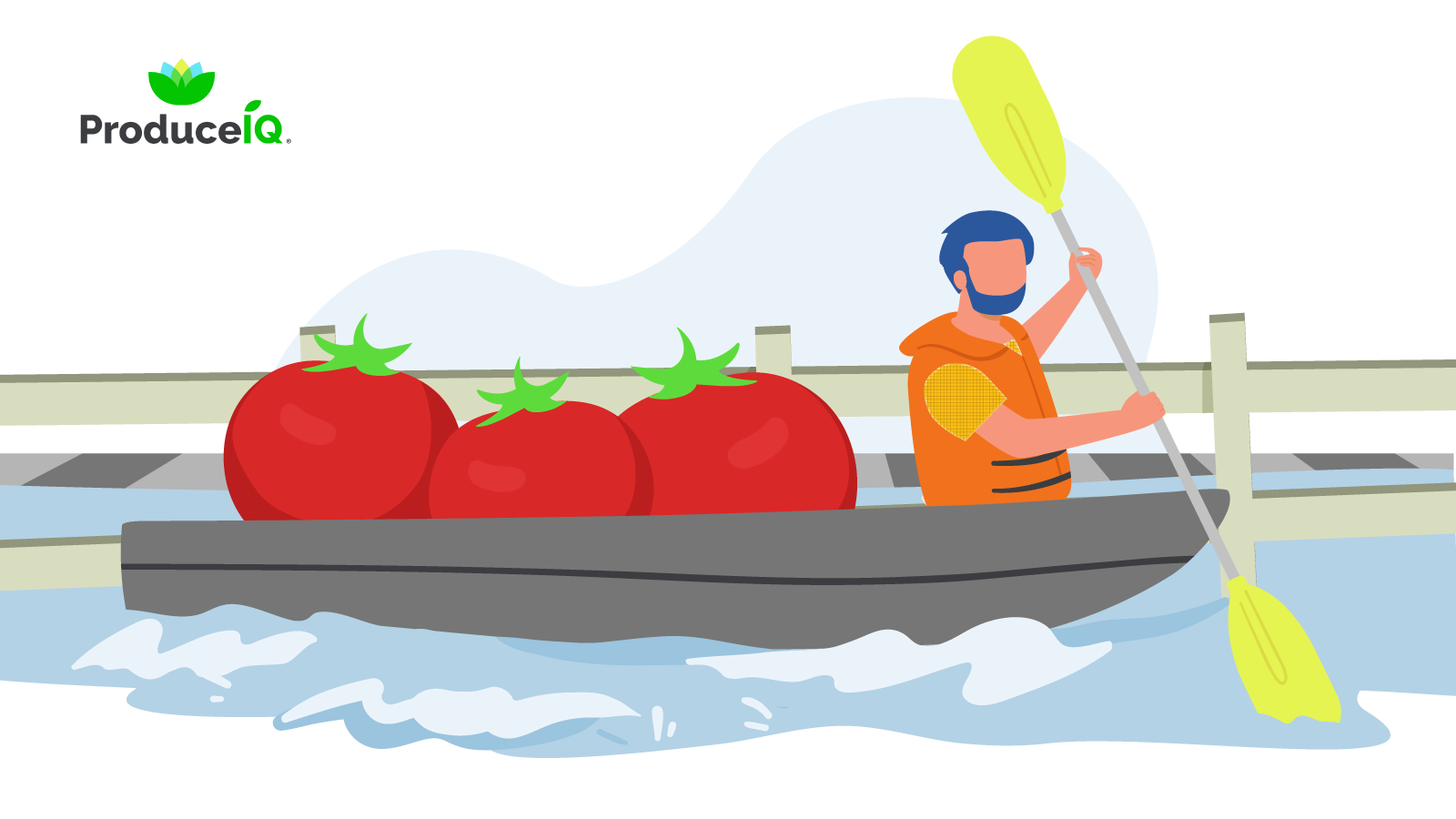 (Week #34, ending August 27th)
ProduceIQ Index: $1.08 /pound, +13.7 percent over prior week
Hurricane Ida, a Category 4 storm, blasted into the Southeastern U.S. yesterday. Rain from Ida will continue beyond New Orleans to drench growing regions throughout the mid-west and perhaps reach as far as New England through this week. A storm of this magnitude will inevitably disrupt supply chains in the Southeast as local governments assess damage and work to restore power and normalcy.
This graphic is created by the NWS/NCEP Weather Prediction Center (WPC) and shows rainfall potential for the United States when a tropical cyclone threatens land. The graphic is displayed as a Quantitative Precipitation Forecast (QPF), which shows rainfall totals for a specified time period, based on forecaster discretion. [ https://www.nhc.noaa.gov/refresh/graphics_at4+shtml/211519.shtml?rainqpf#contents ]
Rain from a tropical storm is, for the second week in a row, exposing tomatoes in the East to potential flooding. Despite challenging supply conditions, markets are not over-reacting because demand is relatively light during late summer.
Romas, or plum-type tomatoes are leading the way with a +24 percent increase to $12/case. Markets are expected to rise further as Eastern quality and quantity declines.

Tomatoes have potential to move higher despite soft demand.
Overall markets as measured by the ProduceIQ index are at a ten-year high for week #34. The index rose +14 percent over the previous week. Categories impacted by recent storms in Mexico and the Northeast lead price increases.
Mexican grown Hass Avocados are ratcheting up the heat, trailing slightly behind record year 2017. However, not all avocado varietals are seeing such dramatic increases.
Hass Avocados are expensive. So expensive, savvy foodservice operators are beginning to substitute with the modest 'ugly duckling' of the avocado family, Green-skin Avocados. Green-skin Avocados, also known as the Florida, Dominican or Tropical avocados are the large variety most commonly grown in Florida and the Dominican Republic. The green-skin type comprise only 3% of avocado imports.
Like the fated ugly duckling in Hans Christian Anderson's fairytale, the Green-skin Avocado seems destined for life as an outsider. Americans' palette, notoriously picky, is keen on its creamier (the healthy fats) cousin, the Hass Avocado. Even as Hass Avocado prices continue to soar to record highs, the comparable Green-skin Avocado is put aside, left to be snuck into restaurant salads and sandwiches by frugal chefs.

Hass avocados have a wide-ranging price history, from $20 to $85 / case.

Greenskin (Florida) avocados, lacking the "must have" demand, range from $5 to $20 / case.
Asparagus is up +28 percent over the previous week. A combination of increasing demand, brought on by Labor Day, and a supply shortage is lifting asparagus prices off the floor. Production in Central Mexico is winding down and the industry is now forced to rely on quality, yet slim supply out of Baja and Peru.
Driven by low Eastern and Western supply, squash prices near record highs. Rain is thwarting harvest in the East. In the West, supply is waning as growing regions transition. Relief can be expected sometime in early September as Western growers ramp up production.
After a hot summer, strawberry prices near their peak. Week #34 prices have only been surpassed once in the last ten years. With Salinas/Watsonville winding down production, and Santa Maria just beginning, it may be a couple more weeks until markets get some relief.
Please visit our online marketplace here and enjoy free access to our market tools which created the graphs above.
Related produce from this article