Dry Onion consumption increased 18% since 2000, approximately 1% annual growth. Onion consumption is favored with increased culinary diversity as well as an increased focus on rich flavor profiles. The root vegetable is found in virtually every culinary tradition globally. As Americans' eating habits have increasingly come to adopt culturally diverse dishes, so too has the demand for onions increased.
Like with most aromatics, or foundational ingredients, foodservice demand can drive onion prices up or down. While the home cook may not be inclined to chop up onions on a daily basis, food service kitchens know this vegetable is essential in a wide array of dishes. Needless to say, the onion market was hit particularly hard in 2020 when foodservice demand froze as a result of COVID-19 shutdowns.
Onions grow in many of the same regions as potatoes. California and Southwest onions are planted in the early spring for a summer harvest. Onions grow best in fertile, well-draining soils. Sandy loams with a low sulfuric content attenuate the pungency of onions. Onions are cool-weather crops grown in USDA zones 3 to 9 but will freeze below 31°F.
Harvesting onions under wet conditions promotes fungal growth. Harvest criteria includes: good size and firm bulbs with mature necks/scales. After harvest, onions are cured in a drying room at 68°F - 86°F.
Onions are a rich source of flavonoids. Flavonoids are prized for their anti-oxidative, anti-inflammatory, anti-mutagenic, anti-carcinogenic properties and their role in modulating key cellular enzyme functions. As a result of their recently discovered health benefits, flavonoids are now being used in a variety of nutraceuticals, pharmaceuticals, medicinal and cosmetic applications.
Onions can be stored longer than three months post-harvest. Storage technology is improving to lessen spoilage and increase quality for onions needed through the winter months. As discussed with previous commodities, the ability to successfully store a harvest is critical for price stability.
The Elasticity chart below, a staple of the ProduceIQ commentary, provides a high-level assessment of the interaction between supply and demand.
Pricing examined below is a blend of Yellow, Red, and White varieties, along with item sizes: Jumbo, Colossal, and Super Colossal. ProduceIQ Index utilizes a consistent mix of product attributes to fairly represent price changes over time.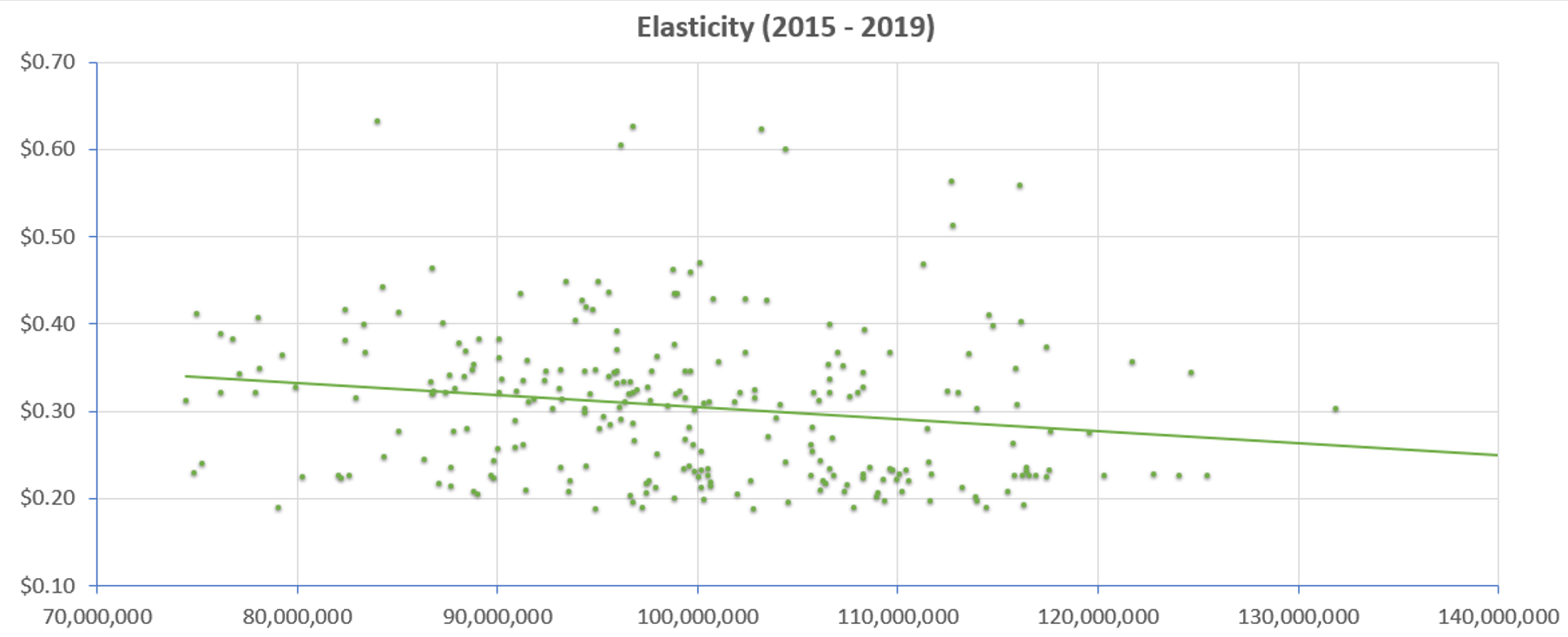 Varied growing regions and long storage life allows for stable onion pricing. There's a well-defined pricing floor at $0.19/pound, though components in the index (e.g. yellow colossal) will vary from the blended prices.
Calendar Years: 2015 - 2019
Average Price/Pound
$ 0.30
Standard Deviation
$ 0.09
Min Price/Pound
$ 0.19
Max Price/Pound
$ 0.63
Onion pricing ranged from $0.19/lb to $0.63/lb between 2015-2019, with a standard deviation of $0.09 (average variability). Thanks to wide diversity in growers, growing regions and seasons, onions have a highly competitive and disaggregated market. Due to onions' long shelf-life, growers can maintain a degree of control and discipline over prices.
The movement chart below shows the various onion growing regions and the correlation in seasonal movement.
Over half of the total onion movement in 2019 was grown in the Northwestern U.S. More specifically, onions are primarily grown in the: Columbia basin, Umatilla basin, Idaho district, Malheur country Oregon, Oregon district, Walla Walla district, and Western Oregon. Helped by high-technology storage, the Northwestern U.S. sells onions for most of the year. California only grows approximately 7% of domestic onions. Smaller domestic growers (5% or less of movement) for specific seasons include: Texas, Georgia, Colorado, Utah, New York and Michigan.
Related produce from this article
---
Selling Price