Do you know anyone that doesn't like blueberries? I don't. I also cannot think of a dish that wouldn't be enhanced by a sprinkling of blueberries (fresh, dried, or frozen). This highly versatile crop enjoyed by old and young alike has been unstoppable in the last decade.
From salads to smoothies, pie to cheese logs, blueberries are similar to the ever-versatile garment you can't stop wearing. A beloved commodity, the use of Blueberries is only constrained by their price.
The U.S. Highbush Blueberry Council invested over $7 million in the last decade to fund academic research studies investigating the health benefits of blueberries. The blueberry belongs to the Super Foods club and has clearly been a beneficiary of the ongoing healthful eating revolution. Most notably, the blueberry is scientifically linked to beneficial health outcomes in reducing risk of cancer, increasing insulin response, reversing age-related memory loss, and lowering blood pressure.
There are four commonly farmed types of blueberries in the produce marketplace: the Highbush, Lowbush, Hybrid Half-High, and Rabbiteye. Don't be fooled by the categorizations; the most popular cultivate – the highbush – can yield differentiated fruit depending on its genetic pedigree and growing location. The crop can vary in size, taste, and texture.
The first commercial crop of domesticated blueberries was harvested and sold in 1916.[1] Relative to other crops in our Index, the blueberry was domesticated rather recently.
Growing Factors
Can be planted in all but the coldest regions (Zone 5 and below).
Shrubs are shallow-rooted, therefore requiring soils that retain moisture (sandy loams best).
Require acidic soils (4.0 to 5.0 pH).
Once blueberries begin turning their namesake blue, there is no rush to harvest. The blueberries can remain on the bush approximately ten days. The grower has moderate flexibility in waiting for an appropriate price before harvesting. Blueberries should not be stored long as they are susceptible to shrinkage.
Movement
In the years 2000-2019, blueberries soared on a relentless uptrend. At the start of our dataset (2000), slightly more than 77 million pounds of blueberries were sold into the U.S. market. In 2019, the corresponding figure was 520 million pounds. That's an increase of 575% or 10.6% annual (CAGR).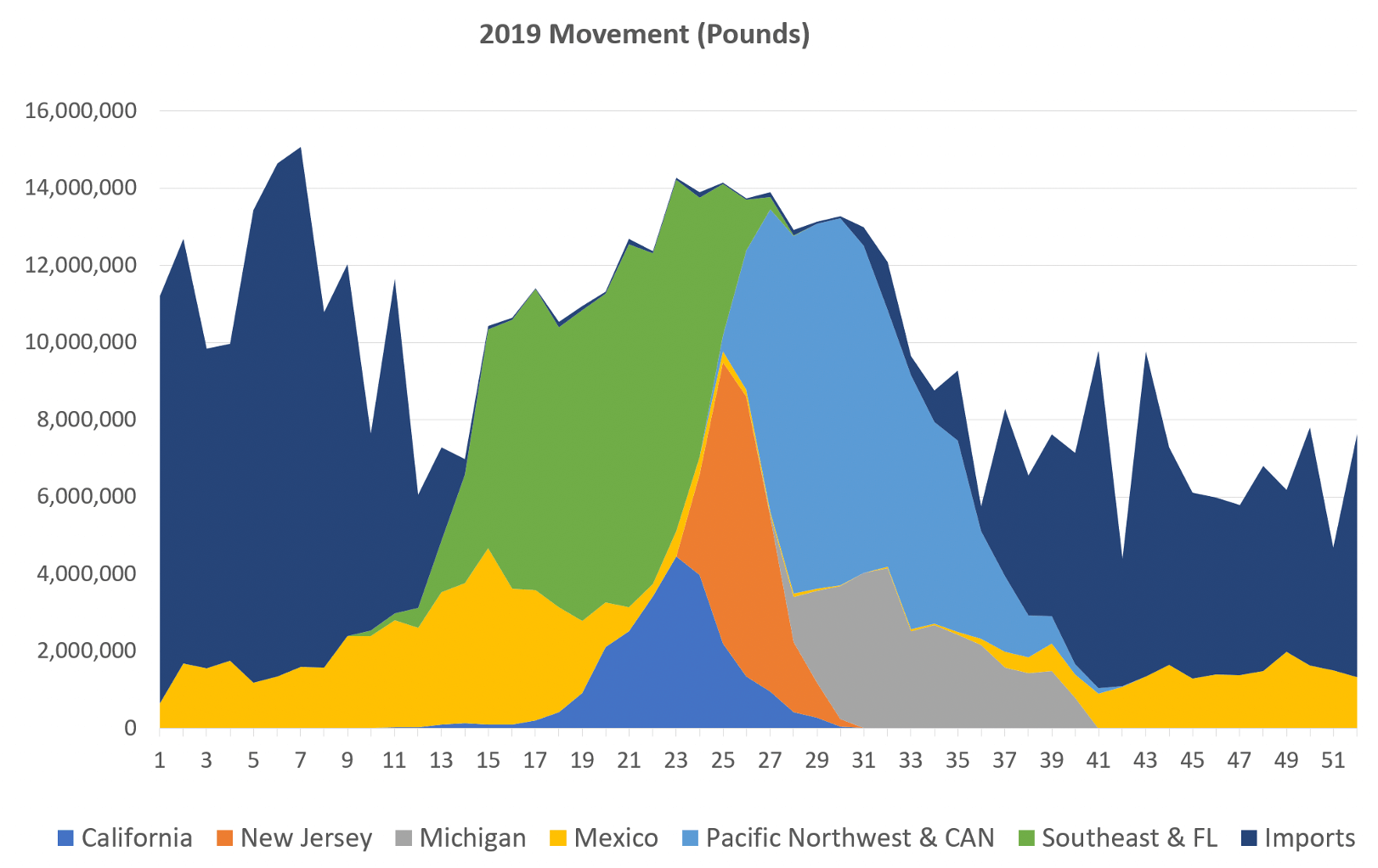 Despite the U.S. being one of the largest growers of blueberries, nearly 59% of blueberries sold domestically originated outside the U.S. in calendar year 2019. Of that, 13% were grown in Mexico and 6% in Canada. Relative to many other crops, blueberries can grow in a variety of geographies varying from Florida to Michigan. As such, their production is dispersed among the U.S. states. Oregon and Washington made up 9.3% of 2019's U.S. movement. Outside of the Pacific Northwest powerhouse, Georgia produced 7.7% of 2019's crop, while New Jersey, Michigan, North Carolina, California and Florida each came in at or around 5%-4%. Both Michigan and New Jersey growers have coined themselves as the "blueberry capital of the world." However, neither is an outsized producer of the fruit. The domestic harvest is concentrated around peak summer +/- 3 weeks into spring and fall.
Overseas producers of blueberries continue to grow their production to meet persisting U.S. demand, particularly during winter. Among those producers, Peru has surfaced as a formidable challenger to U.S. growers. Peru's crop is regarded as being of average quality but appreciated for its consistency in price and steady quantity. To compete with the Peruvian crop, U.S. growers seek ways to extend the harvest season. The focus is on developing varietals that can be harvested in winter +/- 3 weeks into the fall and spring. With labor costs increasing in the U.S., mechanization is increasingly adopted in the harvesting and sorting steps.
Pricing
Calendar Years: 2015 - 2019
Average Price/Pound
$ 3.22
Standard Deviation
$ 1.65
Min Price/Pound
$ 1.18
Max Price/Pound
$ 8.45
Blueberries have seen substantial volatility in the last five years. With a standard deviation of $1.65 per pound for this dense commodity, selling at the best possible price is especially important to a grower's bottom line. Blueberry supply of the highest quality varieties is nowhere near satiating demand, therefore there are gains to be had for quality, high-yield growers who harvest in attractive seasons.
Berries require significant capital expenditures per acre in bushes, irrigation, and other upfront growing costs. High hand harvesting labor costs are a key driver for floor pricing. Because blueberries production is highly disaggregated in the U.S., many growers face challenges finding direct buyers in the produce marketplace and often sell through major shippers.
Organics and Frozen: two important market segments
The frozen blueberry segment influences the price of fresh blueberries more than in other crops. The strong marketing push to promote the health benefits of blueberries has translated into strong, year-round frozen blueberry demand. With steady pricing and demand for frozen blueberries, growers don't have the need to dump their crop onto the market. A significant cost advantage in the frozen market is the ability to harvest mechanically rather than by hand. Because of the labor-saving technologies available for frozen market harvesting, growers of blueberries may be incentivized to divert their crop to the frozen segment depending on supply dynamics. This results in a particularly volatile supply-demand picture for the fresh blueberry market.
A picture muddied by organics. Conventional blueberries are an expensive crop with Super Food attributes. Therefore, the blueberry customer is likely to already be on the more affluent end of the spectrum. For affluent consumers in the U.S., buying organic produce is of increasing importance. Because of the increasing demand for organic produce, blueberry farmers, particularly in the Pacific Northwest, responded by converting more of their harvestable areas to certified organic. A study out of University of Oregon shows certified organic blueberry areas grew ten-fold from 2003 to 2011.[2]
Elasticity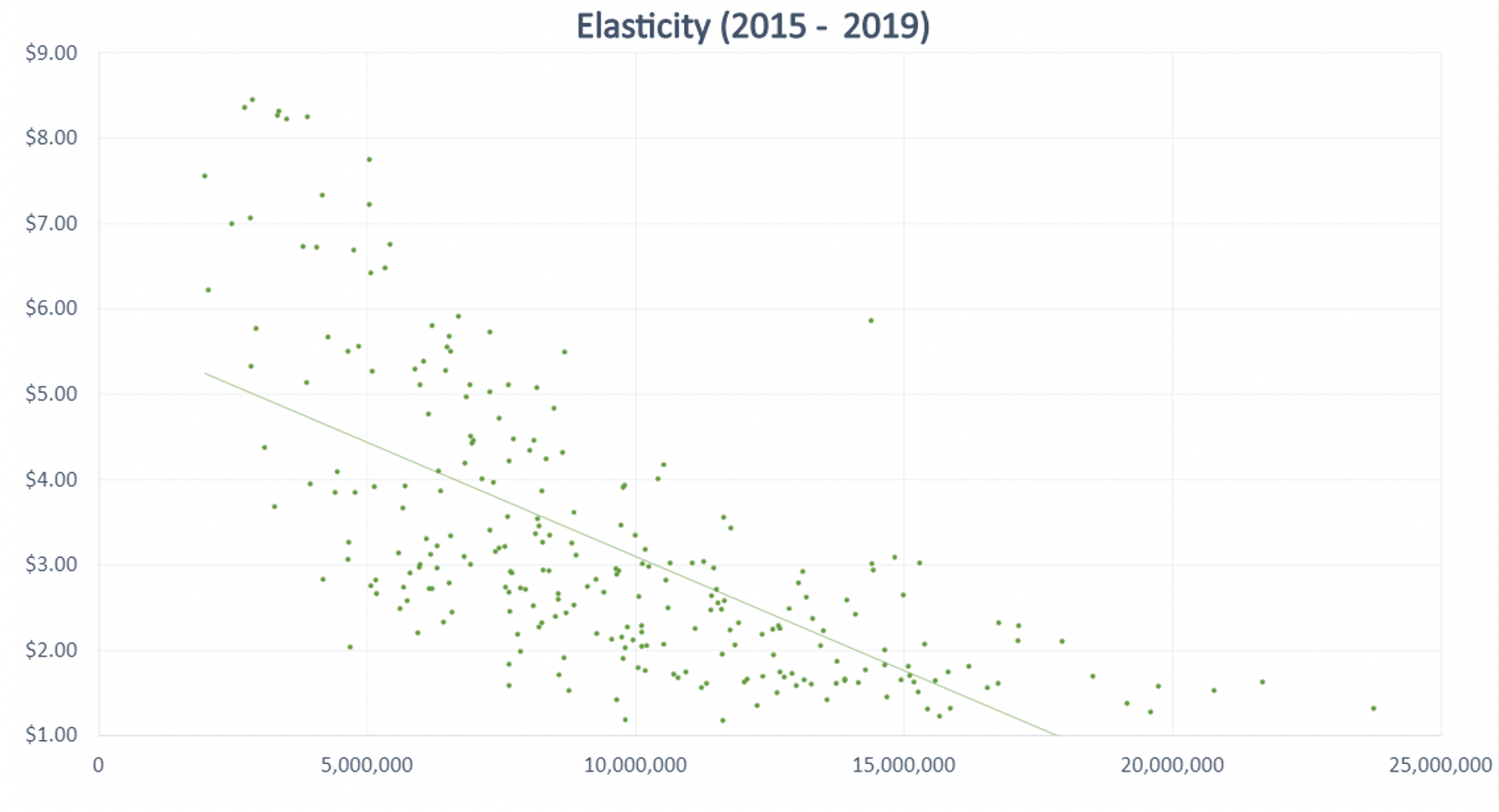 Over the past five years, prices have spiked dramatically around week 40 (1st week of September). Calendar 2018 was a particularly expensive year for blueberries. While the seasonal patterns mostly followed previous years, the lowest-priced summer season was compressed and maintained higher than average prices over the late-summer and fall season. Elevated prices continued into the 2018/2019 winter.
The Elasticity chart for blueberries indicates strong, and unmet demand for the fruit. At low volumes, end-users are willing to pay dearly for the blue delights. The asymmetry in deviations from the trendline is noteworthy. There are more transactions happening below the mean than above. Meaning that some growers are "leaving money on the table" while some buyers are potentially overpaying. I stress that we cannot deduce some buyers are overpaying on the basis of datapoints. There may be characteristics of the particular harvest or grower that the buyer relied upon. Whatever the case, ProduceIQ's produce marketplace is sure to benefit blueberry growers and buyers.
Sources:
---
Related produce from this article
---
Selling Price